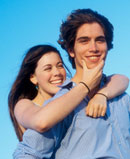 Natural acne treatment
Many people are uncomfortable with some or all of the chemicals used in anti acne skin care products, and are in search of a natural acne treatment. Fortunately, there is a natural acne treatment for just about everyone. Some natural acne treatments are simple, some more complicated, but all are time-honored and effective.
Whether or not a natural acne treatment is more effective than a commercial skin care product is debatable. Each person must decide this issue for herself.
Traditional natural acne treatment
Natural acne treatment, like all treatments, should focus on a three-phase approach: cleanse, exfoliate, tone.
Cleansing: any cleanser that does not dry the skin is suitable here. Glycerin soaps or oatmeal soaps are both suitable for cleansing. Tea tree oil is ideal at this stage, but this natural acne treatment should be left on the skin for a short time before exfoliation.
Exfoliation: any mildly acidic compound can be used to enhance exfoliation. Grapefruit and other citrus (the most common source of alpha hydroxy acid) are the most commonly used substances. Exfoliate gently and don't use a rough scrubber.
Toning: witch hazel is the champion of this task. Witch hazel helps remove excess oils and to tighten up the pores after exfoliation.
Natural acne treatment from India
Use an oatmeal or almond mask throughly to cleanse your face. Mix either oatmeal or almond powder with enough water to make a soft paste that spreads easily on the skin. Rub it on your skin with your fingertips, paying special attention the problem areas. Leave to dry for about 15 minutes and then rinse off with cold water.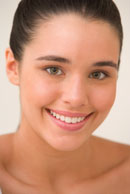 Apply fresh lemon juice, two or three times a day, directly to the affected areas. Acidic lemon juice stimulates exfoliation and contains Vitamin C.
A solution made out of 1.5 cups of hot water and .5 Tbsp boric powder is an good remedy for blackheads. Dip a washcloth into this liquid and apply it to the face. Repeat, then gently remove blackheads. Follow up with an astringent such as witch hazel.
Warm a little honey and apply on the trouble spots. Wash off after 10-15 minutes. Honey is an antiseptic and can help to eliminate the bacteria that contribute to acne.
Review of acne products
When natural acne treatments aren't enough, try a commercial anti-acne skin care product.