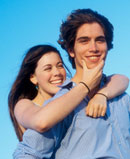 Birth control pills and acne
The FDA has approved low-dosage birth control pills (Ortho Tri-Cyclen and generic norgestimate/ethinyl estradiol) as a treatment for acne.
Most women don't think of their gynecologist as the person to visit when they're having acne issues. But in many cases, birth control pills clear up acne like magic.
How do birth control pills get rid of acne?
As you probably know, changes in the body's hormone balance frequently lead to acne. Androgens (a male hormone found in everyone) can increase the body's sebum production. Androgen levels tend to be elevated just before menstruation begins. Low-dosage birth control pills reduce the levels of androgens found in the body and help to cut off that excessive production of sebum that can lead to acne. The mechanism by which this works may be news, but many women have known for a long time that there's a link between birth control pills and clear skin.
Combining birth control pills with topical acne solutions (benzoyl peroxide-based products, for instance) is even more effective.
Speak to your doctor about which birth control pills are best for you. Sometimes low-dosage pills are ideal for women but there are many varieties and many formulas available.
Should you take birth control pills for your acne?
As with any medication, there are both benefits and drawbacks to taking birth control pills. Taking oral contraceptives increases chances of heart attack, strokes, blood clots, and breast cancer. There are other potential complications you should discuss with your doctor.
But if you're already taking birth control pills, or considering them, this particular acne remedy may be easy for you. If on the other hand you're already taking birth control pills and your acne is still an issue, you should consider implementing a daily anti-acne regimen and getting a good over-the-counter acne fighting product to use.
Recommended acne treatments
Learn which product is considered to be the very best acne treatment!