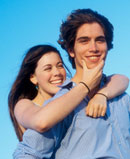 Exfoliate
The third step in the daily clear-skin regimen
Exfoliation means, to some people, to scrub the face with a washcloth or an abrasive compound (even a pumice stone!). This is not proper exfoliation, and can damage the skin and interfere with its ability to heal.
Proper exfoliation is a gentle process that doesn't require elbow-grease. Simply a good product and a few minutes of your time is enough to properly exfoliate your skin.
Choosing the right product to exfoliate
Use an exfoliator with 1-2% salicylic acid for best results. If you're allergic to aspirin, or for some other reason your skin won't tolerate salicylic acid, use a product containing 8% AHA (alpha hydroxy acid). Salicylic acid is a better choice because it is much better at being absorbed directly into the pores for a deeper cleaning. In addition, it serves as its own mild anti-irritant.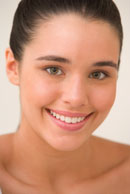 These products exfoliate chemically -- meaning there's no real need for a topical scrub or a washcloth. You may choose to
gently
mechanically exfoliate your face, but remember that easy does it.
Exfoliate step-by-step
You'll need to follow the instructions associated with your product specifically. Different exfoliation products have different guidelines regarding duration of use, amount of product, frequency, etc. So we can only offer the most gentle of guidelines.
Don't immediately start exfoliating every day. At least initially, every other day or even twice per week may be necessary. Rapid changes in your skin care regimen can have a detrimental effect on your skin.
When you're finished exfoliating, move on to the moisturize stage of your skin care regimen.